Electric Motors
Vertical Hollow Shaft
Vertical Hollow Shaft motors are designed for use on turbine, mix flow and propeller pumps. They feature a P-Base style mount where the line shaft goes up through the motor and out the top where it is secured. Vertical Hollow Shaft Motors are available in Totally Enclosed Fan Cooled and Weather Proof I enclosures with normal, high, and extra high thrust capabilites.
ESR Motor Systems is a leading distributor of Vertical Hollow Shaft motors and we stock a wide range of vertical motors in our warehouse in Rock Hill, SC.
Featured Manufacturers:

Nidec/US Motors Vertical HOLLOSHAFT motor has been a standard n the pump industry since 1922. US Motors has one of the largest installed bases throughout the world and their motor is known for its durability and ease of use. Single and three phase motors are available as well as standard efficient, energy efficient, and premium efficient/inverter duty options. Horsepowers range from 3 through 600 HP.
ESR stocks a wide range of US Motors Vertical Hollow Shaft Motors.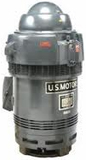 Phase: Single Phase, Three Phase
Horsepower: 3 - 600
Voltage: 115/230, 230, 230/460, 460, 220/380-440, 415, 575
Enclosure: TEFC, WPI
Material: Cast Iron
Efficiency: Standard Efficient, Energy Efficient, Premium Efficient
Cycle: 60Hz
Turbine Pumps
Mix Flow Pumps
Propeller Pumps
Agricultural
Turf
Water/Wastewater
Industrial